Pam has been making soap for the better part of 15 years. First for the family and then as gifts for friends. After being encouraged to continue, her hobby grew into a commercial enterprise now offering well over 55 scents – and seasonal favorites from time to time.
When Pam first started caring for horses in 1998, it was a fun side job and hobby. At the time she continued to work in corporate America never thinking it would be anything other than a small experiment in sustainability. However, that experiment grew to include goats, rabbits, and chickens – with many becoming prize winning animals in local fairs. Before she knew it, her small farm became her lifestyle as she invested in sustainable practices to provide fresh food and products for her family. It was fun compared to the humdrum career she had built up.
After losing much of their contract work in corporate America due to lack of federal funds, they were unsure of what to do. She loved the lifestyle they had built but soon realized that farms were expensive and had to find a way for it to pay for itself. They took on a few odd jobs before realizing the answer was staring them right in the face – turn their hobby into a sustainable operation. Thus, in 2007, Pam became a Corporate Refugee and The Dancing Goat Dairy was officially born.
Over the years, the farm continued to grow with the addition of ducks, quail, pheasants, cats, dogs, and even emus and an alpaca! Aside from the various residents making up the farm, Pam sells all the products made at local farmer's markets, including various eggs, goat and cow milk, homemade goat cheeses, yogurt, and kefir, as well as handmade artisanal goat milk soaps, shampoo and shaving bars.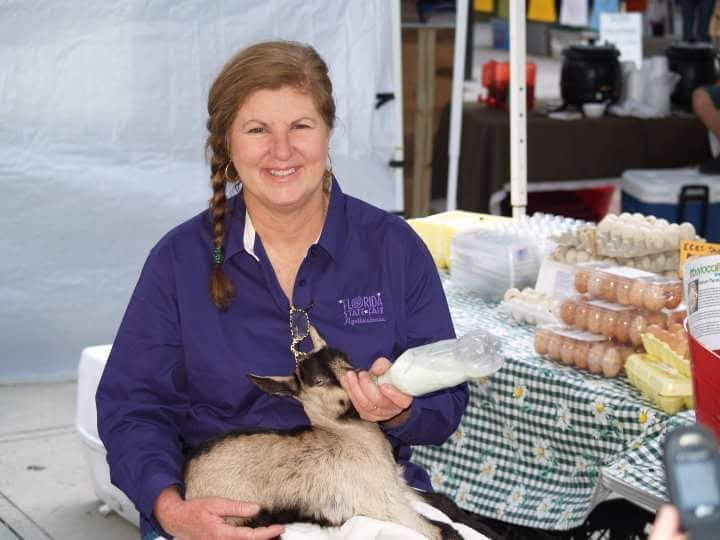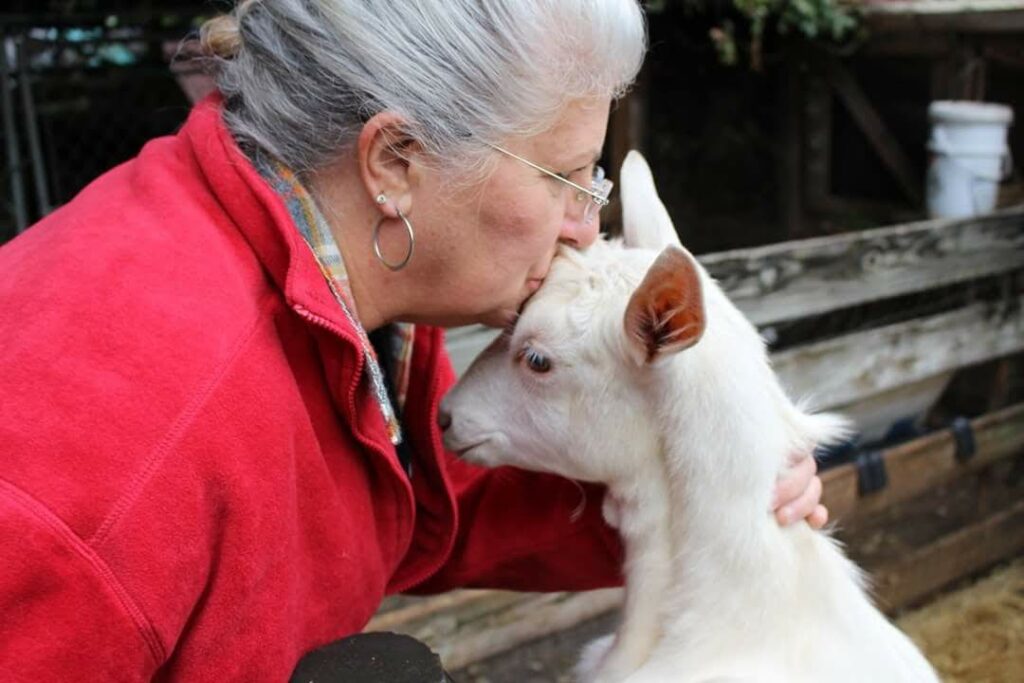 Of course, we would not be where we are today without the support of our community, as well as the hard work of our employees and volunteers. While Pam and her family provide direction and vision, it is the help from volunteers and donations from the community that have made it possible for the nonprofit business to continue to take in animals in need, as well as provide fresh foods, natural products, and agricultural education to the local community.
The Dancing Goat has been recognized for the hard work and great care they put into everything they do. They serve as Farm Branch for the National Humane Society rescuing both farm animals and domestic felines. It isn't unusual to see 15-20 kittens being coddled and raised on goat milk in the barn at any one time. They have also appeared on national, regional and local television as experts in sustainable urban farming, and a Tampa Bay gem adding charm and flair to the local community. The Dancing Goat has received many awards for their cheeses and farm over the years.
So, what started as a small experiment in sustainability, later grew into a family and volunteer-based nonprofit business out of their love of sustainable foods and animals (especially goats)! We put great love into all that we do, whether it be caring for animals, making fresh healthy foods, or creating all-natural soaps. Our mission is to provide the most high quality, delicious, and healthy products while showing the individual love and care that each animal deserves. We hope you enjoy our products as much as we enjoy creating them!
Core Values
Quality – Quality is paramount and we personally stand behind our products.
Sustainability – Our hearts are set on sustainability and creative green innovation that eliminates waste.
Community – We are committed to growing a relationship with our customers and educating the next generation in responsible agriculture
Our Mission
Our mission is to provide the most high quality, delicious, and healthy products while showing the individual love and care that each animal deserves.